You have worked hard and achieved your goal of becoming a freelance worker or an entrepreneur. This is great news! There are many benefits to being your own boss, such as designing your ideal work-life balance. There are some drawbacks to renting or buying a home or applying for a loan. One is that you may need to provide proof of income to get a lease or loan.
Are you a self-employed individual? If so, then you know how important it is to have a paystub generator. A paystub generator allows you to create your own paystubs, which is essential for tax purposes and other transactions. 
Luckily, there are many great paystub generator for self employed available online. In this blog post, we will share with you our top picks for the best paystub generator for self employed. We will also provide tips on how to use these generators effectively. So read on to learn more!
What Is Proof of Income?
Proof of income is a document or set of documents that someone requests to see to verify your income and ability to pay. This is typically requested by lenders or landlords.
Proof of income can come from a salaried or hourly job, or it can come from passive income, which is money you make from investments, like interest, capital gains, and stock investments. It doesn't matter how you get your income, as long as you can prove it to a lender.
If you're planning on buying a house or applying for a car loan, you need to show proof of income to a lender. This will show that you can afford to pay back a loan. There are two types of loans you can get before you buy a home: a conventional loan or a jumbo loan. 
Getting pre-approved for a loan can help you get the best interest rate and also helps when you're negotiating the price of the home.
Every lender has different requirements for what they want to see in a loan application. Generally, you will need to provide proof of your income. This can include pay stubs, bank statements, or other documents that show how much money you make.
How to Show Proof of Income as a Self Employed
If you are self-employed, it can be a little harder to prove your income. You will need to make sure you have the right documents to back up your claims. The documents below can help you do that.
Wage and Tax Statement for Self Employed (1099). 
These forms are a legal document that prove your income as a self employed individual. They are very reliable since they show your wages and taxes.
Profit and Loss Statement or Ledger Documentation.
This summary of your costs, expenses, and revenues can show how much money you make.
If you have a history of making regular deposits, a bank statement can prove that you have a stable flow of income. It is best to have a separate account for business expenses so that you don't mix up any transactions with your personal expenses.
Paystub generator for self employed.
You can create your own paystub with the help of a simple tool. With just one click, you will be able to generate accurate tax information for yourself and print it out in seconds! If you know your income information, you can use Paystubhero pay stub generator to create your own pay stub.
How to Show Proof of Income as a Business Owner or Entrepreneur
If you are a business owner, you may not be getting 1099s or pay stub documents. It eliminates the choice of an offer letter or employer verification. That being said, you're still paying yourself.
You may submit your previous W2 (once again, as long as it is recent or still reflects your income) or just provide them with your personal bank statements. Send them all of the latest transfers into your bank account over the past month to a few months.
It can be difficult to get your hands on a pay stub that is accurate for tax purposes. Luckily there's an easy way around this! You may use a paystub generator for self employed that will take all of the hassles out and put accurate information in no time.
Advantages of Using Paystub Generator for Self Employed
Many business owners, entrepreneurs, and self-employed individuals choose to use a paystub generator over manual processing, as it can help them to:
Work out payroll calculations and deductions quicker

Generate accurate paystubs

Calculate bonuses, expenses, holiday pay, etc with minimum effort spent

Automate certain tasks, like year-end reporting

It reduces the burden of compliance

It removes the need to understand complex tax legislation

Store financial data in a secure, easily accessible system
Where to Get a Paystub Generator for Self Employed?
Pay stubs are a necessary document for freelancers, entrepreneurs, and business owners. Even if you're an experienced professional with years of experience under your belt, it can be difficult to track all the different income sources in one place, so that's why we've developed our own accounting software PaystubHero!
With this tool, you will just input your information and then generate a paystub right away without ever having a hard quadruple check to make sure all calculations are done correctly.
By using our paystub generator, our software will create 100% accurate and error-free paystubs, so they won't have any issues in that regard.
Bottom Line: Paystub Generator for Self Employed
If you're self-employed, using a paystub generator like the one offered by PaystubHero can help ensure that your time and efforts are well spent. With accurate and error-free pay stubs, you'll save yourself time and hassle down the road. Plus, our online paystub maker is easy to use – just enter in the information required and hit "generate." So why wait? Get started today!
Create Your Paystubs Today!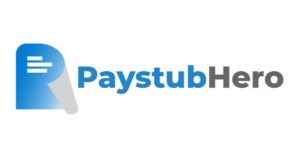 Looking for a convenient way to generate error-free pay stubs? Look no further than PaystubHero! Our online pay stub generator is fast, easy, and 100% accurate. Perfect for small businesses or freelancers who need reliable pay stubs, our online check stub maker makes it easy to print pay stubs online. With just a few clicks, you can create professional-looking pay stubs that are perfect for tax purposes. So why wait? Try PaystubHero today!
Create Your Check Stub Now!
It takes an average of less than 2 minutes.